Info and Description: Agriturismo near Reggio Emilia in Emilia Romagna, Scandiano
---
Scandiano 4781
csatlakozik a "Foglaljon nyugalommal" ajánlathoz
Több információ
Az Emilia vidék természetével körülvett, Emilia központjában (Modena és Reggio között) található ingatlan egy kellemes és barátságos parasztház , amely kényelmes apartmanokat kínál vendégeinek, hogy otthon érezzék magukat.
A ház mellett 5000 négyzetméteres parkot alakítottunk ki szabadtéri grillezésre... See More
Az Emilia vidék természetével körülvett, Emilia központjában (Modena és Reggio között) található ingatlan egy kellemes és barátságos parasztház , amely kényelmes apartmanokat kínál vendégeinek, hogy otthon érezzék magukat.
A ház mellett 5000 négyzetméteres parkot alakítottunk ki szabadtéri grillezésre (pavilonnal és grillezéssel), szoláriummal, pingpongasztallal és játszótérrel az Ön pihenésére.
Az ingatlanhoz 7 hektár szőlőültetvény tartozik, ahol a vendégek nyugodtan sétálhatnak, valamint egy gyümölcsös, ahol szezonban közvetlenül a fákról lehet gyümölcsöt szedni.
Az ingatlan kényelmes és felszerelt nyaralóapartmanokat kínál vendégeinek, melyek közül: 3 jellegzetes kétszobás apartman a 19. századi kő parasztházban, az eredeti stílusban és színekben felújított földszinten, önálló bejárattal és 4 db új építésű stúdió. a ház hátulján.
Csodálatos tanösvények között töltheti a napokat, felfedezheti gyalogosan vagy kerékpárral, és kiváló jellegzetes termékeket kóstolhat a Strada dei Vini e dei Sapori mentén nyitva tartó pincészetekben, tejüzemekben és ecetgyárakban , vagy a számos jellegzetesen. éttermek a parasztház közelében. A tanya állatbarát , kutyákat és macskákat szívesen fogadunk.
A parasztház saját parkolót és közös mosókonyhát is kínál vendégeinek az apartmanok előtt.
Az ingatlan kerékpárosok és motorosok fogadására is alkalmas, akiknek vannak fenntartva bizonyos szolgáltatások, mint például a zárt parkoló, az esetleges javítási műhely, valamint a kerékpár- és motormosóhely.
A parasztház egy 17 hektáros gazdaságban található, felerészben takarmány- vagy gabonafélékkel, felerészben szőlőültetvényekkel, ahonnan a tipikus reggiói borokat, például a Lambrusco DOC-t kapjuk, melyek mindegyike integrált harci módszerrel termesztve az ember és az egészségre gyakorolt kisebb hatás érdekében. a környezet. A környezet tisztelete elengedhetetlen számunkra.
A természet védelme érdekében létrehoztunk egy 105 panelből álló fotovoltaikus rendszert, amelyek 19 KW energiát termelnek, fordított ozmózis rendszert használunk a lakásokban található üvegpalackok feltöltésére, hogy elkerüljük a műanyag és egyéb apró óvintézkedéseket. .
Az Emilia központjában, Modena és Reggio Emilia között található farm ideális hely azok számára, akik nyugalmat keresnek anélkül, hogy feladnák az egész régió legszebb művészeti városaiba tett kulturális látogatásokat. a szuggesztív városok: Reggio Emilia, alig több mint 10 km-re az építménytől, és ahol csodálatos műemlékek csodálhatók meg; Modena, a katedrálissal, a Ghirlandinával és a Piazza Grandével, amelyeket az Unesco a Világörökség részévé nyilvánított; és Parma, a szuggesztív keresztelőkápolnával.
Ezen túlmenően parasztházunkból felfedezheti Matilde di Canossa lenyűgöző vidékét templomaival és kastélyaival, vagy Mantova és Bologna városaiba is eljuthat.
A farm körül rendszeresen tartanak koncerteket, fesztiválokat és ünnepségeket, amelyek mindegyike különösen fontos történelmi és kulturális szempontból. A vendégek elmerülhetnek a Reggio Appenninek-szigeteken található Parco del Gigante paradicsomi természetében, vagy érdekes túraútvonalakat követhetnek a Spallanzani vagy a Matildico ösvényen.
A termálfürdők kedvelőinek farmunk szomszédságában található a Terme di Salvarola, Emilia Romagna úgynevezett isteni vize. Ehelyett a sport szerelmesei ellátogathatnak Maranellóba és megcsodálhatják a csodálatos Ferrari autókat. Ezen kívül a közelben fedett és szabadtéri úszómedencék, teniszpályák, atlétikai központ, lovardák és golfpályák is találhatók.
A közelben léggömbrepülések és ejtőernyős ugrások is találhatók.
Nascondi testo
Válasszon szállást
Disponibilità per

date flessibili
The search with flexible dates has found also the following availabilities in the property. Please look for which dates you prefer and make your reservation.
Iratkozzon fel hírlevelünkre, és kapja meg ajánlatainkat és a legújabb Hírek

An error has occurred!
General services
Háziállatok bevihetok
Autóparkoló
Légkondicionálás
Gyermekjátszótér
Külso világítás
Barbecue
Washing machine
Utolsó takarítás
Sheets - towels (weekly change)
Futés
Szárítóberendezés
Gyermekágy
Bikes available
Heti takarítás
Vászon
Villamosenergia-fogyasztás
Lehetoségek megváltozott képességu utazók számára
Technology Services
Wi-Fi Internet access
Wi-Fi in all rooms
Sports Services
Asztalitenisz
Other services
Kanapé
Ingyenes piperecikkek
Sík vasaló és vasalódeszka
Főzés eszközök
Kültéri bútor
Kültéri étkező
Teakonyha
Etető szék
Hajszárító
Főzőlap
Szekrény szekrény
Services és a közeli helyekre
3 Km Hospital
3 Km Clothes shops
3 Km Minifoci-pálya
3 Km Supermarket
3 Km Bar - Cafe
3 Km Tenisz
3 Km Élelmiszerbolt
3 Km Town centre
3 Km Lovaglóiskola
3 Km Restaurant-Pizzeria
10 Km Golf
Beszélt nyelvek

English

Français

Italiano
A hitelkártya csak garanciaként kerül felhasználásra

A hitelkártya csak garanciát jelent, semmilyen költség nem fogja terhelni azt.
Letétfizetési mód: Bankátutalás - Credit card
To confirm your reservation please enter your credit card details:

Diners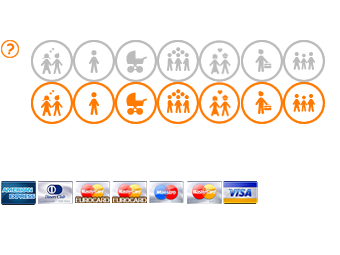 - American express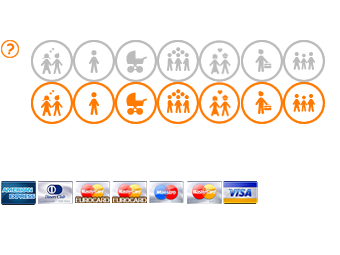 - Mastercard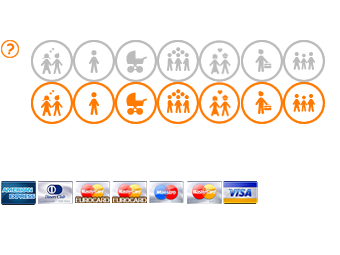 - Visa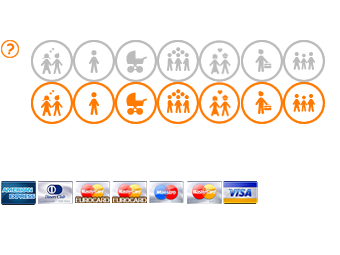 - Europecard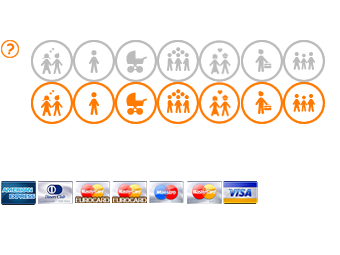 A teljes összeg kifizetésre kerül: az érkezéskor
A fizetés teljesítésének lehetséges módjai: Credit card - Cash
Hitelkártya elfogadva:
Visa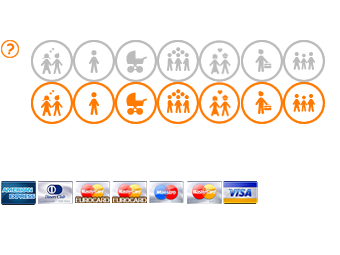 - Mastercard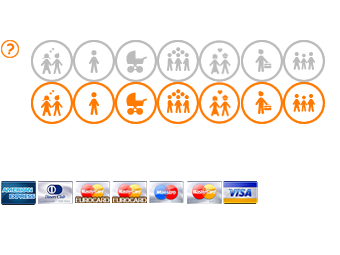 A foglalás utáni 24 óra és az érkezés 8 dd közötti időszakban történő lemondás esetén a teljes összegnek megfelelő összegű kötbér kerül felszámolásra .
Az érkezéstol számított 7 dd nap és az érkezéstol számított 0dd nap közötti visszavonások esetén a teljes árból 100% büntetést alkalmazunk.
In case of 'missed arrival' or 'Early Departure', cancellation policies starting from '0 days before arrival' will be applied
Regolamento
della

struttura
Érkezés a következo idopontok között: 14:00 - 21:00.
A szobák elhagyásának ideje legkésobb 10:00.
Best price
100% Secure booking
Nincsenek további költségek